Anyone who has followed our Blog knows that we believe in the science of Global Warming/Climate Change, but are not advocates of a U.S. Cap & Trade Carbon Tax. Several recent news stories illustrate this concern.
In his State of Union speech, President Obama urged Congress to pursue a bipartisan, market-based solution to Climate Change. Unfortunately, the term "market-based solution" continues to be just defined as a carbon tax. Environmental Interests must demand that "Policy Wonks" do better, rather than creating a flashpoint between Red-State versus Blue-State political ideology.
This week, the U.S. DOE's Energy Information Agency (EIA) released its latest data on U.S. energy related carbon dioxide emissions by State. The below two charts reflect the 8 highest CO2 emission States (red bars
) and their percentage (44%) of total U.S. emissions -- where one-half of the Top 8 States are the heart of U.S. Manufacturing (IL, IN, PA, OH) which continues to struggle against the un-level playing field of international trade (especially with China).
Two additional news stories that piqued our interest are reports on increasing
coal use in China
(as well as India) and the realities facing CO2 emission levels
in China
.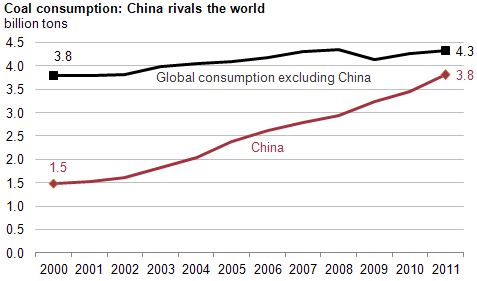 The next chart puts the above news stories into a global perspective of the importance of international trade in addressing CO2 emissions. Historically, approximately 50% of the U.S. Trade deficit is a result of imported goods manufactured in China and the other 50% from imported oil.
For over 40 years since the Arab oil embargo of 1973, OPEC has conspired to set the global price of oil. If western oil companies tried to do what OPEC does (resulting in a staggering restraint on trade), they would be immediately prosecuted. The producers' cartel, however, can get away with it because its members own 78% of the world's oil reserves and lie beyond our courts.
The next chart illustrates the global C02 consequences of international trade where the flow of CO2 emissions are allocated to the location that goods and services are consumed -- where clearly, "the elephant in the room" is Chinese imports to the U.S.
Just a cursory view of the above flow-chart on Chinese trade leads to a simple question which is never really addressed in any policy dialogue: If Carbon Taxes are levied on U.S. Manufacturing, would global emissions of greenhouse gases really be reduced? Or, would this simply futher displace consumer demand of U.S. manufactured goods (through a higher price) for those produced in China and other developing Countries?
As the term signifies, "Global Warming" is a global problem, not just a U.S. or European problem.
UPDATE: Wall St. Journal Article; N.Y. Times on China's Air Pollution.